The most time-consuming activity for any educational institution is collecting fees, which, among other things, requires careful attention to calculations including things like unpaid payment status, fee concessions, scholarships, and exemptions. Additionally, the accuracy of the manual fee calculation and collection process cannot be guaranteed. Managing fees manually increases the likelihood of errors, which can negatively affect the entire work process. This is the reason why it would be wise for any institution to switch to automatic fee collection software. Not only does it provide accurate fee-related computations, but it also saves administrative staff a ton of time and effort.  
Edumatica's fee management system was designed and developed on an AI-powered technological framework and support multiple modes of fee payment such as debit cards, credit card, net banking, and so on.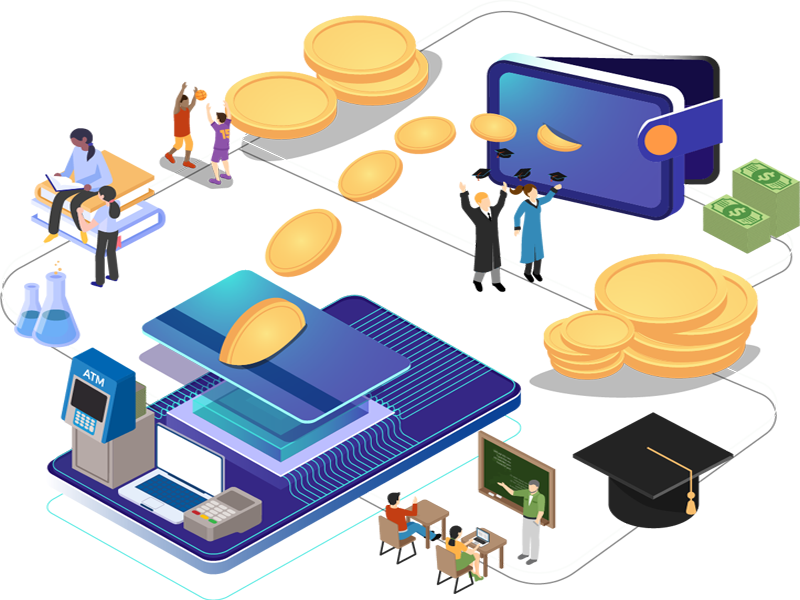 Features of Fee Management System
The fee receipt must include a detailed record of the various components of the total fees, such as tuition, housing, extracurricular activities, and so on. Due to the volume of receipts that must be processed, it may not always be completely accurate. Fee management software automates the entire process, ensuring speed and accuracy.
Colleges can send SMS, E-mail, and mobile application notifications about fees such as Fee payment, Fee Due, and Reminders of Fee Payment prior to the payment date. This enables parents to determine whether the fee has been paid and the transaction was successful. Parents are not required to contact or visit the college for this purpose.
Edumatica offers several options for online fee payment. The fee can be paid by parents using a mobile application that is fully integrated with the ERP.
Accept payments from parents using a variety of methods such as credit cards, debit cards, net banking, Pay U money, Paytm, and so on.
Fee payment at any time from anywhere:
Parents can pay the fees online from anywhere in the world; all they need is a good internet connection, a bank account, and a credit card. The parents do not have to travel to the school and wait in a long line to pay the fees. 
Creating a financial statement at the end of the fiscal year is a time-consuming and complicated process. Fee management software streamlines the entire process by automatically generating a statement that includes all of the necessary information.
Benefits of Online Fees Management Software
1. Easy to use and implementation fees management system
The fee management system is easy to use and implement. you don't need to install a new program or software. Teachers, parents, and anyone can pay the fees from any location or anytime at their convenience – instead of standing in queues all day long.
2. Automatic calculation 
Fees management system offers you an automatic calculation feature. It helps you to calculate the fees of every student without any error, taking into account all the extra considerations from scholarships, hostel fees, sibling discounts, library fees, etc.
3. Paperless system 
Fee management software provides the convenience of using a paperless system that will help you maintain receipts and payment records in digital format. It saves your time and the hassle of dealing with piles of papers, and receipts and is also eco-friendly.
4. Safe and secure payment  
Fees management software saves all of your payment details safely and securely.
5. Cloud-based fees solution software
The best fee management software is cloud-based it can manage multiple requests simultaneously. Such systems benefit schools, colleges, universities, etc., with thousands of students across different geographies. The cloud-based solution can manage any number of transactions.
The Take-Away
Edumatica makes fee management simple, beneficial, and cost-effective. A fee management system has many advantages for college/university administrators. This allows colleges to scale their activities without worrying about administrative costs. When fee management software is used, personal and general user accounts are easily managed. On the cloud, the data in the system is highly secure and cannot be interfered with by hackers. The software is user-friendly due to its self-explanatory user interface. Above all, the software ensures that fees are paid on time, which saves the college money, time, effort, and resources spent on fee payment tracking.