You Got The Skill!! We Got The Platform
The world at large has witnessed a significant increase in the adoption of digital technologies since the outbreak of the COVID-19 pandemic. Numbers do not lie, as they show that there has been a substantial increase in the adoption of digital technologies during the pandemic. The most popular work-related technology is video conferencing, followed by online collaboration tools and cloud storage. Let us look at what the future has in store for E-learning.
E-Learning Market Statistics: 2030
According to the report by Allied Market Research, 2030. The e-learning market is expected to be worth $325 billion by 2030. This growth will be driven by the increasing demand for online courses and training and the need for more flexible and affordable learning options. The market is expected to grow at a compound annual growth rate of 9.5% between 2020 and 2030.
The world at large awaits you, and our team at Edumatica wants to be a part of the instructor's journey when they explore the online landscape of the coaching business.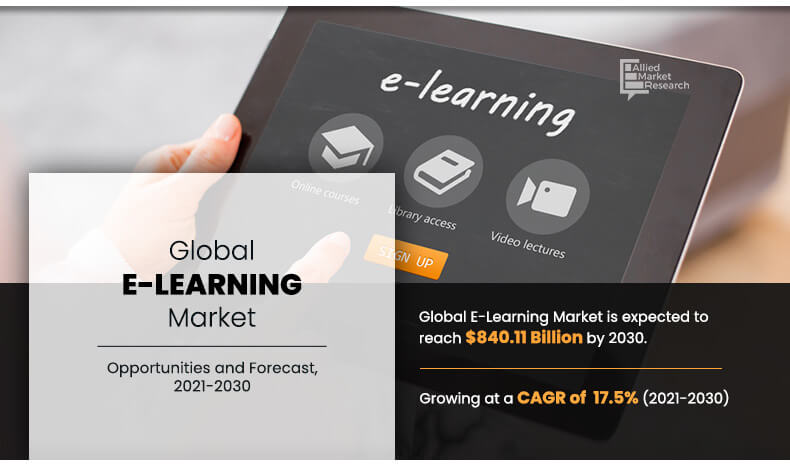 Here are 5 Steps For Getting Started With an Online Coaching Business
Requirement for online tutoring
Figure out your teaching niche
Start teaching with an established EdTech
Start teaching with your app or website
Promote your coaching business (Brand It)
Let us begin with the first step:
1.Requirement For Online Tutoring
1.1Have Suitable Skill Set
Whether a seasoned teacher or just starting, all you need is suitable skills to engage your audience. Anyone who wants to be an online tutor must have the right skill and the potential to showcase the skills in a professional manner.
Though it would be an icing on the cake if you have a relevant education background that would include a degree in the subject you want to teach. It ensures that your students are getting a quality education from qualified instructors.
1.2 Set Up Your Online Classroom With the Right EdTech Platform
Now that you have extra income, setting up an online classroom is essential. You'll need to consider a few things regarding hardware and software.
First, you'll need a computer with a webcam and microphone so that you can interact with your students in real-time.
You will need a stable internet connection to ensure no interruptions during class.
You may also want to consider using a video conferencing tool so that you can hold virtual office hours or host guest lectures.
In terms of software, you'll need a learning management system (LMS) to upload lessons and track student progress. Edumatica is the LMS you need when you want to give an edge to your coaching business.
1.3 Time To Choose The Online Teaching App/Software
Online tutoring business requires you to pick an online teaching app or any software that has these essentials and more:
The most crucial factor is the app's ability to provide engaging and interactive content.
The app should also be easy to use and have a user-friendly interface. Another critical factor is the app's ability to track progress and provide feedback.
The best online teaching app like Edumatica has all these features. Book a demo today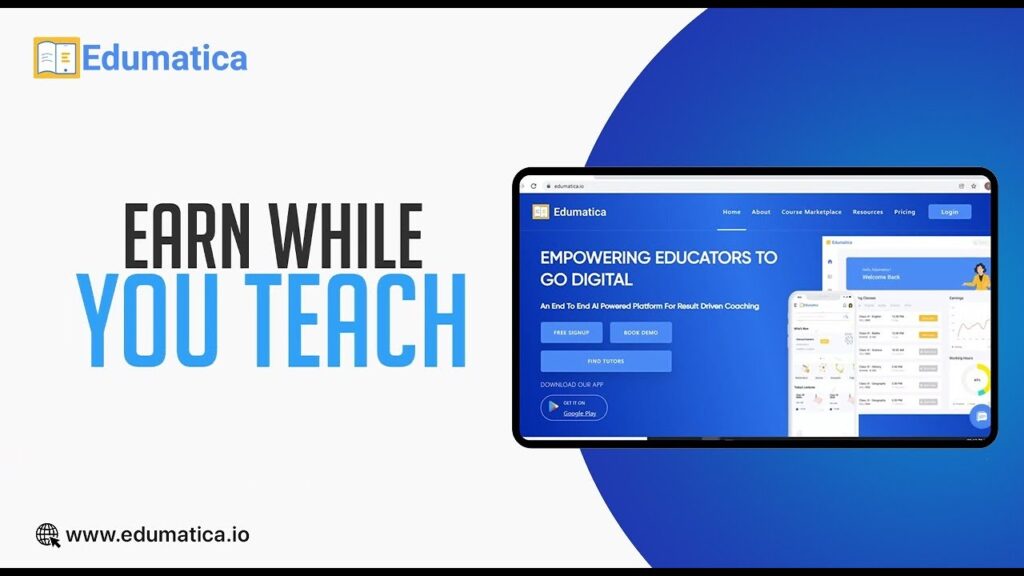 2. Figure Out Your Teaching Niche
It would be of great interest to you if you were clear about what you will teach or what skill you will impart to students.
A tutor can determine what skills are in demand in a few different ways. One way is to ask your fellow tutors what subject they would recommend.
You may look online for resources or forums where parents and students post their experiences with different tutors.
Now that you have figured out what subjects or skills are in demand, it is time to search for more specific keywords.
2.1 Take help from Search Engine Autocomplete Suggestions
Autocomplete suggestions on search engines can help you understand what other people are looking for.
To use this feature, start typing a search query into the search bar on your preferred search engine. As you type, you'll see a list of suggested questions pop below the search bar. These suggestions are based on popular searches that other people have made.
Click on one of the suggestions to perform a search using that query. P.S- Make sure to choose a popular topic that people are searching for.
3. Start Teaching With An Established EdTech Platform
3.1 Register yourself for the online tutoring business
Choose an Edtech platform like ours, Edumatica. Here the registration process is seamless and sets you up for your online tutoring business in no time.
At our EdTech platform, you must create an account and register as a tutor. This process is usually pretty simple and only requires basic information about yourself. After you've registered as a tutor, you'll be able to start creating your profile and listing your courses.What is the wait for? Sign up today!!.
3.2 Get Ready To Teach
Now that you are an officially verified tutor at an EdTech platform. It is time to give a Get. Set. Go to your online tutoring business.
If you have questions about EdTech's features, most Ed.Tech platforms would have a technical group to support you. We at Edumatica have an expert team to resolve every query of yours most proficiently.
4. Start Teaching With Your App or Website
Let us say, as a tutor, you decide to have your own online teaching app or website and do away with an established EdTech platform. Here is the way to go about the same.
4.1 Decide A Business Plan
There's no one-size-fits-all answer to this question, as the best way to make a good business plan depends on the specific business and industry. However, there are some key elements that all good business plans should include:
The plan should have a clear and achievable goal.
It should outline a detailed strategy for how the business will achieve that goal.
It should consist of financial projections to show how the business will perform financially.
The plan should be well-written and easy to understand.
For a detailed insight into how online business plans are formulated and executed, we suggest having a read of An insight into the business model and key features is essential.
4.2 Build/ Design Your Website Or App
For you to start your online tutoring business, it is essential that you either get a website or an app. You have the following ways to do it:
Get it built by an experienced developer,
Do it by yourself (it is pretty vast and cumbersome), or
Purchase a ready-made EdTech platform like Edumatica.
Either you get it done yourself or rely on the expert, always remember that the online teaching app/software/website must have the following features:
There are a few key things to remember when designing a website or app for an online tutoring business.
First, it's essential to make the interface user-friendly and intuitive. The last thing you want is potential customers to get frustrated and give up before they even start using your service.
Second, you'll need to ensure that the platform is secure and reliable. It is essential to handle sensitive information like credit card numbers or personal data.
Finally, it's essential to have a system for managing payments and tutoring sessions. You'll need to be able to track who owes what, when payments are due, and so on.
By keeping these things in mind, you can create a platform that will be successful and popular with online tutors and students alike.
We suggest doing away with spending time and energy creating your own website or app from scratch, and it will cost you a fortune (₹ 35-40 lacs) that too without the regular maintenance cost of the platform. Instead, be at Edumatica, which provides a white-labeled platform for a bare minimum price.
At Edumatica, we want you to have your own EdTech platform in no time and at no high costs.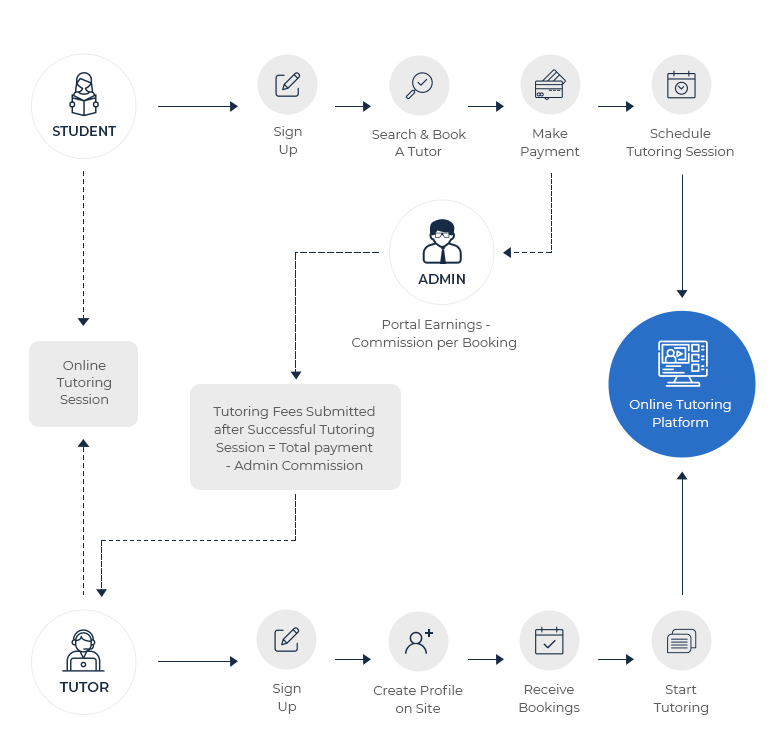 5. Promote your online tutoring business (Brand It)
Having an online presence does not guarantee you great returns. You will have to promote your online tutoring business. The most important way is to brand it.
Create a unique name and logo associated with your business.
Create a website and social media accounts for your business.
Make sure to populate your website and social media accounts with high-quality content that will attract potential customers.
Get the most out of the online review sites, as each has its strengths and weaknesses. To get the most out of them, it's essential to understand how they work and what information they do provide. We suggest you add a page on Google My Business or any other reputed online review website that encourages existing students to leave reviews that will help the potential students towards your business.